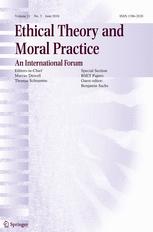 Welcome to our latest Ethical Theory and Moral Practice discussion! Our featured articles are from a symposium on Alberto G. Urquidez's (Re-)Defining Racism: A Philosophical Analysis, with contributions from Megan Mitchell, César Cabezas, José Jorge Mendoza, George N. Fourlas, Naomi Zack, and Urquidez.
To kick off discussion, we have a critical summary of the symposium by Grant Silva. Take it away, Grant!
Of What Value is a Definition? A Critical Précis of Alberto G. Urquidez's (Re-)Defining Racism: A Philosophical Analysis
Allow me to first express my gratitude for being invited to partake in the conversation between Alberto G. Urquidez and his critics in Ethical Theory and Moral Practice (Vol. 24, Issue 3). I shall begin these comments by noting that contrary to what most people might think, we live in a time in which there is a great deal of public discourse on matters connected to race and, more importantly, racism. This perhaps sounds odd given the various attempts at both the state and local levels to prohibit the teaching of those terms or ideas often used to educate students of our nation's history of white supremacy and racism. While for the most part the manufactured crisis of "Critical Race Theory" is intended to rouse a particular voter bloc, and hence its claims should be dismissed outright, at some point those committed to racial justice must take on the content of these claims. These anti-CRT efforts, after all, are not intended to stop discussions on racism. That would be foolish in a society with glaring racial inequalities. Instead, the goal is to control them: racial inequality is not systemic but the fault of individuals; only a racist sees race; those committed to ending racism do not judge others by the color of their skin; only hateful persons are critical of their nation's history, etc.
It is for this reason that Urquidez's meticulously argued and bold book, (Re-)Defining Racism: A Philosophical Analysis (Palgrave Macmillan, 2020), is so important today. It offers a theory of racism derived from a philosophical methodology that conjoins Wittgensteinian inspired intensionalist semantics with a normative-pragmatic pluralism. This method, conventionalism, allows Urquidez to prescribe a definition of racism, i.e., a grammar and set of rules for how "racism" ought to be used, that enables philosophers and theorists of race to adequately characterize or depict existing phenomena as "racist" without (a) losing sight of why this concept was originally created and (b) becoming mired by metaphysical debates about racism's "real" nature. To the chagrin of those who demand neutrality or even "objectivity" from a definition of racism, Urquidez's theory prioritizes the victims of racial injustice, particularly those harmed by white supremacy. Central to his view is a functionalist account of racial oppression that focuses more on the consequences of racist action and less on the moral-psychology behind racist behavior (RR, 28). This oppression-based approach stems from his underlying semantic commitments: the prescribed definition of racism is not merely delineated by necessary and sufficient conditions but also contoured by the concept's origins as a term of art meant to depict an oppressor-oppressed relation of domination.
The bulk of (Re-)Defining Racism consists of Urquidez's argument for the theory of linguistic meaning at the center of his project. While this argument is instrumental to his thesis, I worry that the work will be hijacked by philosophers of language who will pick at the semantic theory but leave behind the focus on racism and racial oppression. Nevertheless, drawing heavily from Ludwig Wittgenstein's grammatical turn, Urquidez argues that linguistic meaning is a product of human convention and rule-producing language norms. Language is not a mirror reflecting nature or reality but a goal-directed activity through which human beings have created networks of meaning to help understand and interact with the world we live in. As such, linguistic meaning is ultimately "arbitrary" in two senses of this word: first, human languages do not derive meaning from reality (RR, 27); second, concepts like racism are fundamentally sociocultural, and we are free to determine grammatical conventions according to our own values and desired ends. This second (and older) sense of "arbitrary," as in having been decided or dependent on someone's choice, is critical to the antiracist dimensions of Urquidez's project. Put differently, the justification for a grammar is immanent to the linguistic community putting it forward. A grammar, on this account, is not only conditioned by the facts which it strives to characterize, but these characterizations are selected based upon human values, interests, and goals shared by members of this community (RR, 127).
The upshot of this grammatical approach is that the concept of racism cannot be confined to traditional forms of conceptual analysis that divorce it from its sociohistorical contexts. In the face of widespread disagreement and confusion regarding what counts as racism, philosophers and race theorists must consider how "racism" has been used in order to assess what it should mean. This concept's contested nature, therefore, is Urquidez's point of departure.
For the most part, as he explains, the term is used in myriad and often contradictory ways, not all of which are genuine or sincere. Most popular discussions of racism, especially those operating in politized contexts, are mired by self-interest and bad faith (RR, 4). This contentiousness does little more than enable moral evasion and helps to weaponize the charge of racism such that one can undercut its historical role in criticizing white supremacy. For example, note how proponents of the anti-CRT movement emphatically exclaim that discussing our nation's racist history is "racist" towards white people alive today. Urquidez writes, "We need to reclaim the concept of racism because it is, and has been, under attack; because the term 'racism' is highly overused; and because the concept is often hijacked for political gain at the expense of the interests of people of color for whom the concept ought to be employed" (RR, 24). Accordingly, Urquidez argues that "racism" should be cached out in collectivist and not individual or personal terms; this concept should reference longstanding forms of group-based (specifically racial) oppression and injustice caused by the sociopolitical paradigm of white supremacy.
Given this contrived contentiousness, Urquidez's theory can expect a great deal of resistance from both philosophers and non-philosophers alike, a concern articulated by George Fourlas and José Jorge Mendoza in their respective commentaries. However, like these commentators, I must admit to appreciating this boldness. Much of my philosophical work being on racism, I am frequently surprised (but should not be) that after presenting my views on racism I am often (almost always) asked how my theory or comments work with instances of nonwhite racism against white people, as if a theory of racism holds no water unless it can castigate nonwhites too. Although there are good reasons for expecting a theory of racism to be so thorough and consistent, such a request often fails to recognize what Urquidez describes as the concept of racism's Janus-face, a point that I find to be especially helpful when confronting racism's contested nature today.
Racism, like any concept, consists of both a necessary and contingent side, its essential and accidental features. The necessary side of racism boils down to those elements of the concept that are essential to any account of it. As examples Urquidez offers racism is a racial phenomenon, which is to say, "it is impossible to make sense of the term 'racism' (what it means) without reference to the idea of race," and racism is morally objectionable, that is, "it is impossible to know what 'racism' means without knowing that this term is used to condemn" (César Cabezas takes issue with this moralized approach to racism in his comments). The contingent side of the concept of racism is the empirical and sociohistorical side; how the concept came into existence and its original purpose. Making use of Wittgenstein's example of chess, one can know how to play the game, even be a student of it, without knowing how the game came into existence. Through this metaphor Urquidez's goal is to explain how the necessary side of racism can easily be decontextualized and stripped from its historically contingent context. When this happens in philosophy one gets talk of "necessary and sufficient conditions" for what makes something racist. When this happens in society, you get charges of "reverse racism" or the type of colorblind ideology that purports that "only a racist sees race," the idea that all race-conscious policies are racist. Such an approach to racism is wrong, argues Urquidez, because "racism's necessary side is deeply bound up with its contingent side" (RR, 13).
One can see the importance of racism's Janus-face in the exchange between Urquidez and Megan Mitchell. In her comments, Mitchell asks for more detail regarding the role of personal responsibility in Urquidez's framework. In particular, she takes issue with his claim that white people must assume responsibility for their racial biases (RR, 288). Drawing from the work of Robin Zheng, Mitchell suggests that all people in a society contoured by racism and racial injustice should have to assume responsibility for the racial biases they harbor, not just whites. Yet, as Urquidez argues, while such a claim is undoubtedly true, it elides the relationship between racial biases and longstanding forms of racial injustice. While all people might harbor racial biases, not all benefit in the aggregate in the same way by these biases. The point being, it does not mean the same thing, so to speak, for everyone to reckon with their biases. This talk of bias can easily distort, if not abscond from altogether, racism's contingent half in the hope of establishing a workable—essential—theory of responsibility.
Whereas the contentiousness one finds in popular discussions of racism are not products of genuine confusion as much as they are intentional misrepresentation, the theoretical- or philosophical-level disagreement typically boils down to three debates: (1) whether empirical or non-empirical approaches are best at characterizing the nature of racism; (2) monist versus pluralist approaches to racism (i.e., is racism one thing or are there many kinds?); and (3) whether the concept of racism is essentially moralized or simply appreciated for its explanatory power. Worse, for Urquidez, is the tendency of philosophers to believe that their theories of racism describe an existing state of affairs in the "real" world. Such approaches reify a particular understanding of racism, which is imprudent given the tendency for racism to be dynamic and wily. At the very least, such philosophers are mistaken in terms of what the role of philosophical inquiry ought to be. He writes,
The goal of philosophical theory is normative rather than ontological, and prescriptive rather than descriptive.  The warrant it must ultimately attain is pragmatic rather than epistemic. The goal is not to define "what racism is" in the ontological sense (for there is no "racism-as-it-is-in-itself" to discover), but to define "what racism is" in the normative sense of providing a rule for correctly applying the word "racism." Our project aims to define how the word ought to be used for purposes of moral representation (RR, 26).
For Urquidez there is no "racism-as-it-is-in-itself" to discover because "racism" is a sociocultural concept. A sociocultural concept is characterized as one that overlays ongoing social relations. In racism's case, the social relation is one marked by relations of domination that themselves reference not reality per se but a social construction—the concept of race, a social construction graphed onto reality. Racism is real, he exclaims, but how this empirical phenomenon is (and ought to be) carved-up is determined by linguistic rules that come from how the term is used and not some state of affairs that tether the term's meaning.
Without a doubt, the above point is contentious, as Naomi Zack argues in her response. Some of the confusion stems from Urquidez's insistence that the reality of racism is not the same as the concept of it. Along these lines, one point I would like to hear more about is the relationship between Urquidez's intensionalism and the functionalist account of oppression he adheres to. Although he argues that there is no thing called "racism" that exists independent of human representation, oppression, especially that connected to material inequalities and privilege, is real. My worry is that in going after metaphysically inclined arguments that strive to ground a theory of racism in some essence or quality, he underplays the "metaphysical" aspects of his own pragmatic approach.
I would also like to offer one last point regarding this emphasis on oppression. Racism as a racial phenomenon is an essential aspect of racism's grammar. Often, though, this notion implies, as Urquidez does, that the victims of racism are targeted because of their race, i.e., because of their group-status. This might very well be the case. However, this focus on the racialized status of the victim often overlooks the significance of the aggressor's race and their own sense of group position. For instance, in trying to explain how anti-immigrant sentiment in the United States today constitutes a form of racism, one option is to liken "illegality" to some kind of racial designation. While this might work, an easier means of describing anti-immigrant sentiment as "racist" would be to focus on the focal object neo-nativists and nationalists are concerned with: the status and centrality of whiteness in the United States (an argument I provide in here).
Why does this matter? Given that the grammar of racism is open to revision, perhaps it ought to be augmented in a way that recognizes this term's ability to not only characterize the harms caused by racial oppression but also the benefits it confers? Such is the type of analysis I offer in Racism as Self-Love. The upshot of this particular grammatical revision is that not only can we use "racism" to characterize racial oppression, but also that we can recognize that the flipside of that oppression is often racial privilege. Granted, racial privilege does not always confer the material benefits most think it does (perhaps even, following Urquidez, it does not have the reality many think). Many impoverished whites would benefit by the same public policies meant to address racial inequality. However, much like the concept of racism, the concept of racial privilege can help in the struggle against racial injustice, especially in light of tropes of "victimization" stemming from efforts at promoting racial equity. That is to say, a great deal of the anti-CRT movement is concerned with decontextualizing the term "racism" in a way that allows for those identifying with the group that has, as a matter of actual history, been afforded social, legal, and institutionalized privilege by means of racial terror (i.e., whites) to become victims of "racism." What greater example of racial privilege is there than being able to claim that one is psychologically or morally harmed by inquiries into their nation's history? My point is, as much as I understand and agree with Urquidez's focus on oppression, I think his contextualized approach needs to emphasize, even more, the white racial privilege this oppression enables.
While one might not ultimately agree with Urquidez's methodology or conclusions—and given his antiracist commitments there are many who (sadly) will not—there is much to appreciate in his work. I will continue to factor it into my own projects and look forward to the conversation about his work.