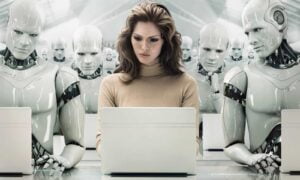 Hello out there, PEA Soupers. I hope all of you are healthy and taking good care of yourself and your families. I happened to be talking on the phone with David Shoemaker last night while we were sharing a few end-of-the-week cocktails, and he asked if I might post something on PEA Soup. It's about a couple points that came up when we were discussing a conversion to online teaching. I was sharing with Dave my thoughts about a recent memo from the dean of our department's college. He remarked in passing that higher education could be at a crossroads, and this was in the context of noting that we do not know what the long-term implications will be of this nationwide conversion to online teaching in higher education.
I made two points to Dave about this that he and I thought might be worth sharing.
First, it would be unfortunate if our collective short-term efforts to respond well to an immediate crisis provided a way for administrators to move many of us in the direction of online teaching rather than keep philosophy in the (physical) classroom. Getting a long-term policy implemented as an upshot of decisions made in response to immediate need is, obviously, not out of the question, even if it is the sort of thing best decided by cooler heads in better times. I do, however, think it would be easy to react unfairly to administrators who are now entertaining such thought. If this transition leads many consumers of higher education to consider more seriously online education, then it will affect expected enrollments and create more demand for a different way of delivering education. Good administrators should be strategizing by thinking through how all of this might go. But equally, we should all make sure that in advocating for our discipline we are not forced into a style of teaching that, at least to my mind, diminishes rather than enhances what philosophy is for and what makes it an enjoyable thing to pursue and to teach.
Second, I also noted to Dave that at least at my university, insofar as I understand it, my recorded lectures for my classes are the property of my university. So are my recorded Zoom live class meetings. All of this work I am posting on my d2l course website could be captured and then supplied in the service of others teaching online classes with my work product and expressing my views. Now I have to say that in my case there is not much reason to worry. My recorded lectures are so bad. I say "um" a lot and stumble around for what I want to say with the camera running. There's little chance anyone will be moved to make use of my lectures. But that's beside the point. We might all be stockpiling resources universities could use to help make at least some of us unnecessary.
Do you think I am now sounding too paranoid, just one more nut-job conspiracy theorist? Think again! Just yesterday on a long bike ride far outside the city of Tucson, I happened to come upon a building with signage indicating it was owned by the U of A. When I peeked inside, to my horror, I saw an entire room of lifeless androids that were exact replicas of each member of my department. All were wearing the same light blue button-down shirts and tweed jacket, with perfectly combed hair and docile smiles, and they were all on a loop, repeating in monotone voices expressions like, "And therefore…" "What is the argument for this claim?" "Your paper is a week late now, when can you get it to me?" and so on. Get them to pass a Turing test, and we're screwed. They'll just hire elite ninjas to "disappear" us tenured faculty in the night, and presto, no more faculty salary needed to run the place. These are dangerous times, my friends.