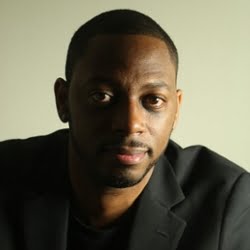 Very excited that Soup's next Featured Philosopher is Luvell Anderson. Take it away Luvell!
Many thanks to Dave2 for inviting me to contribute to this wonderful site!
I am working on a couple of book projects at the moment. One is about the roles race, class, and power play in our interpretive practices and the limits this intersection poses on understanding. The second focuses on the aesthetics of African American humor and its use as an instrument of social critique. What I thought I would do is adumbrate some ideas from the second project.
What constitutes African American humor? Plenty of scholars have written on the "special place" of laughter in the African American experience, including folks like James Weldon Johnson, Zora Neale Hurston, and W.E.B. Du Bois. Claude McKay, the Jamaican-born writer and poet and key figure of the Harlem Renaissance, writes in Home to Harlem:
"He remembered once the melancholy-comic notes of a "Blues" rising out of a Harlem basement before dawn…melancholy-comic. That was the key to himself and to his race…No wonder the whites, after five centuries of contact, could not understand his race…No wonder they hated them, when out of their melancholy environment the blacks could create mad, contagious music and high laughter."[1]
What McKay expresses in this passage is something of the centrality for which humor and music play in the lives of African Americans; so much so that it presumably confounds white people after so long a contact with them, especially given the circumstances of their respective social conditions.
The perception of humor playing such a hefty role in African American psychic life might lead us to think there is such a thing as a distinctive form of African American humor. Part of the project's aim is to present a plausible account of a unified tradition. This is not where I want to focus my attention here, however. Instead, I want to think through an interesting claim by novelist Paul Beatty. First, a quick setup.
When Dave Chappelle left his wildly popular and successful television show The Chappelle Show back in 2005 he said that he did so, in part, because of what he perceived as inappropriate laughter from white audience members. A story written for Slate recounts the event in the following way:
While Chappelle acted out a sketch that featured him as a pixie in blackface, he heard a white crew member laughing a little too hard. This was, apparently, the galvanizing moment that caused Chappelle to reassess the intent of his comedy, and the kind of laughs he was giving his audience. As he told Time, "I want to make sure I'm dancing and not shuffling.[2]
Chappelle notices that something is off with the audience member's laugh. Presumably, the way he was laughing and, perhaps, what he chose to laugh at, signaled the presence of a separation between that crew member and Dave, a separation indicating that something's gone askew.
An initial question Chappelle's recounting raises is about the appropriateness of laughter. What is it for one's laughter to be inappropriate? There are other questions lurking as well, one of which emerges from a claim made by Paul Beatty. Beatty, in the introduction to Hokum: An Anthology of African American Humor, writes:
No matter how heartfelt, white interpretation of Negro humor and Negro existence is often too black. It's Vanilla Ice slant-rhyme jive black. It's poor, beleaguered Bill Clinton pleading temporary blackness and bivouacking in Harlem among his people of non-Rwandan ancestry. It's the in toto blackness of Uncle Tom's Cabin and Check and Double Check, a blackface so pervasive, so complete that even Amos and Andy's and Topsy's palms and fingernails are shoe-polished to a grease-monkey pitch.[3]
What does it mean to say that white interpretation of African American humor is often too black? One reading of this suggests that white people, for either reasons of zeal or reticence, are overeager to "Other" black people, in order to maintain a boundary, so as not to see them as too similar, too American.
To the extent that this is right, it provokes the question, "Should white people engage with African American humor?" An answer to this question requires thinking about a few things. First, what is involved in appreciating humor and why think white people incur a bigger burden in trying to appreciate African American humor in particular? Second, what are the possible harms involved in failing to appreciate, or at least sufficiently appreciate African American humor? For white audiences, engaging African American humor (at least of certain types) runs the risk of concretizing baseless fears or providing rationalizations for previously held misconceptions (Chappelle's worry). At the very least, this presents a prima facie burden for white patrons.
There is also a challenge for black humorists. For the black humorist, presenting material before white audiences runs the risk of fostering further misunderstandings about Black life and black humanity. What responsibility does the black humorist have in presenting distinctively African American humor before white audiences?
These concerns raise a challenge to those who would find humor a useful mechanism for helping to alleviate racial division. How does one perform humor that accentuates difference without giving others a perceived license to cover over our shared humanity?
This is the central challenge for those who think of the language of the arts as the universal language that grants members of disperse linguistic communities hermeneutic access to one another. Being that this is still presented as a linguistic item of sorts, concerns about appropriate interpretation are present and real. Perhaps, instead of putting all of our energy into formulating methods of interpretation, we should be thinking more about creating situations of trust that allow for the kind of openness and patience truly deep communication requires.
[1]Lawrence W. Levine, Black Culture and Black Consciousness: Afro-American Folk Thought from Slavery to Freedom(Oxford: Oxford University Press, 2007), 298.
[2]Willing Davidson and Mark Joseph Stern, "Dave Chappelle's Problem," Slate, March 30, 2006, http://www.slate.com/articles/arts/movies/2006/03/dave_chappelles_problem.html.
[3]Paul Beatty, Hokum: An Anthology of African-American Humor, 1st U. S. edition (New York: Bloomsbury USA, 2006), 2.