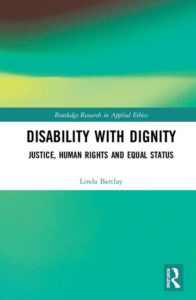 Welcome to our PeaSoup Ethics Forum on Leslie Pickering Francis' review in Ethics of Linda Barclay 's "Disability with Dignity: Justice, Human Rights, and Equal Status" (Routledge, 2019). 
From the blurb:
The philosophical literature on justice and human rights has often been limited in scope and somewhat abstract. Not enough sustained attention has been paid to the concrete claims made by people with disabilities, concerning their human rights, their legal entitlements and their access to important goods, services and resources.

This book discusses how effectively philosophical approaches to distributive justice and human rights can support these concrete claims. It argues that these approaches often fail to lend clear support to common disability demands, revealing both the limitations of existing philosophical theories and the inflated nature of some of these demands. Moving beyond entitlements, the author also develops a unique conception of dignity, which she argues illuminates the specific indignities experienced by people with disabilities in the allocation of goods, in the common experience of discrimination and in a wide range of interpersonal interactions.

Disability with Dignity offers an accessible and extended philosophical discussion of disability, justice and human rights. It provides a comprehensive assessment of the benefits and pitfalls of theories of human rights and justice for advancing justice for the disabled. It brings the moral importance of dignity to the centre, arguing that justice must be pursued in a way that preserves and promotes the dignity of people with disabilities.
Excerpt from the review:
Linda Barclay's Disability with Dignity is an eclectic account of disability justice that draws from resource-based theories, capability theories, and human rights.  Dignity understood as equal relational status is the unifying theme that pulls these theoretical pieces together (9). Barclay's eclecticism has the strengths that these different theories bring different insights and may become mutually supportive. However, it risks internal tension if the theoretical pieces do not fit well with one another because of the justificatory structures that underlie them. Barclay avoids this risk by only going so far as the pieces mutually support similar conclusions. Yet this minimalism may make it more difficult to achieve Barclay's aim of addressing what disability justice can reasonably pursue.

First, a very brief sketch of Barclay's main points:

It is useful to conceptualize disability by melding impairments and environments into assessments of effective functioning, as does the WHO.This account strikes a balance between strong social models that attribute disability to social factors and strong medical models that attribute disability to individual imperfections.
Discussions of disability justice must transcend conflicts between social and medical models of disability to see how and whether social change is uniquely positioned to address disability injustice. Not all attributions of disadvantage raise claims of injustice. Even when more inclusive designs are practicable, they may be so "prohibitively expensive" (34) that failure to provide them is not unjust.Barclay's examples are design of public transit systems to accompany those who must always lie down or insistence that everyone also sign when they speak in public, instead of mitigation such as alternative paratransit for bed-users or interpretation services for the hearing impaired.
Accounts of disability justice must propose the right kinds of remedies for disadvantage and justifying these remedies in a manner that upholds dignity. Resource-based theories, capability theories, and human rights must be tested in light of these criteria.
Applying these criteria requires an account of the metric of justice—what justice compares—and the rule of distribution—how what is compared by the metric should be distributed (35).
Resource-based metrics are the wrong kind of remedy because they focus on the individual goods rather than changes in social structures to address disadvantage. Resource-based metrics can, however, uphold dignity, as mere need for additional resources does not demean. Children, pregnant women, people injured in accidents, and the very old are among Barclay's examples, a mixed list at best: pregnant women and the elderly especially might find perceptions of their increased neediness demeaning.
Capability metrics have the major advantage of not prescribing how individuals ought to live their lives. Their exercise may require either resources or structural change. However, capability theory may not deliver remedies in a manner that adequately reflects dignity as equal status. Capability theory must explain why capabilities matter to a good life without disparaging those who cannot exercise them effectively, such as people with cognitive disabilities who may be unable to participate politically, imagine, think, or engage in critical reflection (74). Barclay concludes that "it is likely that the threat to the equal status of some people is ineliminable" (76).
Some requirements of justice should not be construed as resources or capabilities. These include the rights to vote, to due process, and to non-discrimination. So a minimalist floor of rights must be added into the mix of disability justice.

This eclectic account of disability justice has several major strengths.  It focuses not on the who but on the what of critical disadvantage.  It sees that social factors must be addressed; disability justice requires structural change. And it emphasizes achieving equal status for all.  Nonetheless, it is worth thinking about the extent to which such an eclectic and highly general approach can address some of the core tensions about disability justice.  Here, I focus on two: the exercise of legal capacity by people with intellectual disabilities and access to health care.

The exercise of legal capacity by people with intellectual disabilities is a core value of the Convention on the Rights of Persons with Disabilities (CRPD). States parties shall "recognize that persons with disabilities enjoy legal capacity on an equal basis with others in all aspects of life" and "take appropriate measures to provide access by persons with disabilities to the support they may require in exercising their legal capacity." This provision of the CRPD has spurred the development of structures of supported decision making to replace mechanisms such as guardianships that transfer decision making from the individual to a representative for the individual. It is qualified by the requirement to "provide for appropriate and effective safeguards to prevent abuse" that "ensure that measures relating to the exercise of legal capacity respect the rights, will and preferences of the person, are free of conflict of interest and undue influence, are proportional and tailored to the person's circumstances, apply for the shortest time possible and are subject to regular review" (CRPD, Art. 12(4)).

Barclay reads this qualification as permitting legal capacity to be abridged: "Severe cognitive impairments are not like 'race', sex and physical impairments, namely, features of the person that are never legitimate grounds to abridge equality before the law or the broadest right against discrimination" (105).  But an alternative is not to abridge legal equality or rights against discrimination for some, but to understand that the exercise of legal capacity on an equal basis must take different forms for different people.

Barclay's most specific discussion of the exercise of legal capacity by people with disabilities concerns the right to vote.  She argues in line with the CRPD that relying on proxies to vote the interests of people with cognitive disabilities fails to respect dignity and that it is prejudicial to assume that no one with cognitive disabilities has the capacity to vote independently.  On the other hand, she thinks that it would be implausible to assume that everyone with cognitive impairments in the right environment could possess whatever capacities are required for voting. Her justification for extending the franchise to all with cognitive disabilities is instead instrumentalist: that any benefits of denying the right to vote are outweighed by the disadvantages for dignity of identifying and excluding some from the exercise of this right (116). What gets Barclay to this conclusion is her assumption that achieving the relevant capacities will be impossible for some, but this assumption depends both on an individualist construction of the capacities for voting and on insistence that interpreting and applying rights requires reference to justice.

The CRPD approach, in contrast, is that others must work with and for people with intellectual disabilities to exercise the legal capacity to vote, subject to appropriate safeguards against abuse.  This process is not just representing the interests of people with intellectual disabilities but constructing an account of choosing with the person with disabilities, albeit an account that will need to recognize that there are persons who will not be able to cognize or express their views.  The account would look more like what Barclay insists upon in her final chapter about the importance of recognizing dignity in day to day interactions even with the most cognitively impaired. In this chapter, she writes elegantly in criticism of undignified treatment as hosing people down or leaving them in soiled diapers.  Further, she criticizes the role of "[c]ulturally shared schemas about the natural unfitness of disabled people to participate in work, school, families, politics and society" in influencing "the availability and distribution of resources" (137). These distributions predictably reduce the "educational, career, political and other achievements of disabled people" and further reinforce the cultural schemas of inadequacy (138).  The result is that [i]t looks like a natural fact about the world, about disability, that disabled people are incapable of full participation" (138). It is puzzling why Barclay fails to see that her individualist construction of the capacities for voting may incorporate some of these culturally shared schemas.  Perhaps the explanation lies in her minimalism about justice, for she insists that CRPD rights must be interpreted through a lens of what justice can reasonably require and she thinks that justice cannot reasonably require overly excessive resource expenditures on the disabled.

The impact of her minimalism is even clearer in Barclay's discussion of access to health care. The problem as Barclay (and many others) see it is that the more complex health needs of people with disabilities be very expensive.  This is a particular problem for the United States which does not offer universal access to health care, but it is also a problem in societies facing resource constraints. Barclay's rights minimalism insists on limiting access to health care by a requirement of "reasonable accommodation" (89) that considers "issues of feasibility and cost … [that] legitimately influence the degree and nature of inclusion required of a just society" (89).  It is not discrimination, she contends, to refuse to provide equal outcomes when so doing imposes burdens on others (90).  Equal outcomes, to be sure, may not be achievable for anyone, even those without disabilities.  But what a civil rights approach requires when resources are limited is not imposition of a reasonable accommodation limit only on the disabled who are seen as exceptionally needy, but consideration of strategies of reasonable accommodation and inclusion for all.

Barclay's book is an exceptionally thoughtful account of disability justice.  It aims to speak to people who espouse very different approaches to justice:  resource distribution, capability assurance, and minimum floors of rights.  It seeks to see what all three of these approaches can support.  This is a critical project for supporting disability justice.  But it also exposes tensions for theories of disability justice to continue to address.