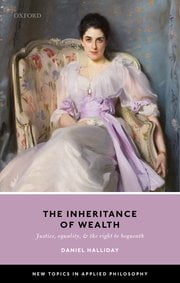 Welcome to our PeaSoup Ethics Forum on Stewart Braun's review of Daniel Halliday 's The Inheritance of Wealth (OUP, 2018).
From the blurb:
Daniel Halliday examines the moral grounding of the right to bequeath or transfer wealth. He engages with contemporary concerns about wealth inequality, class hierarchy, and taxation, while also drawing on the history of the egalitarian, utilitarian, and liberal traditions in political philosophy. He presents an egalitarian case for restricting inherited wealth, arguing that unrestricted inheritance is unjust to the extent that it enables and enhances the intergenerational replication of inequality. Here, inequality is understood in a group-based sense: the unjust effects of inheritance are principally in its tendency to concentrate certain opportunities into certain groups. This results in what Halliday describes as 'economic segregation'. He defends a specific proposal about how to tax inherited wealth: roughly, inheritance should be taxed more heavily when it comes from old money. He rebuts some sceptical arguments against inheritance taxes, and makes suggestions about how tax schemes should be designed.
From the review:
The lack of direct attention that has been paid by political philosophers to the moral issue posed by inherited or bequeathed wealth is somewhat striking. While economists and political scientists have written books over the last 40 years or so squarely addressing inheritance, I am aware of only one sustained examination of the subject by a philosopher: D.W. Haslett's Capitalism with Morality. In his excellently argued and highly original new book, The Inheritance of Wealth, Daniel Halliday effectively fills that gap.

Halliday's main contention is that it is necessary to effectively tax inheritances or bequests because they are "flows" of unearned wealth, which over time lead to the type of economic segregation or inequality that is corrosive to a fair and equal society. The Rawlsian tone of this argument is unmistakable, and that is something Halliday acknowledges up front—in fact, he claims that one of his main aims is to explain why Rawls was right to call for the taxation of bequest and inheritance (3). If inheritance is a flow of wealth through families, then, when it is not properly taxed, it allows for the dynastic succession of wealth and the creation of a privileged class with the power to undermine the structure of a fair society.

A more subtly argued, but no less important point of the book, is Halliday's claim that when properly taxed, inheritance and bequest can play important roles in upward social mobility and securing a fair capitalist market system. Fundamental to this position is his endorsement of a Rignano tax, which works by taxing inherited wealth progressively according to its age or, more specifically, the number of times it has been passed down. Halliday contends that the implementation of a Rignano tax will prevent dynastic concentrations of wealth while at the same time protecting incentives for productive work and allowing inheritance to serve as vehicle for the upward social mobility of poor families. Although the Rignano tax seems appropriately sensitive to work and savings incentives, it is rather less clear that it will prove effective in preventing dynastic concentrations of wealth because it appears to allow the process to begin.

[…] [T]he heart of the argument occurs in chapters four, five, and six, where Halliday diagnoses the injustice of improperly regulated inheritance as arising from its causal role in the unwarranted creation of economic segregation. Drawing inspiration from Pierre Bourdieu, Halliday claims that wealth attracts valuable non-financial capital such as exclusive opportunities, access to influential social networks, knowledge of social systems or institutions, and important cultural or behavioral norms that confer significant advantages on their possessors. When a small group in society substantially controls important forms of non-financial capital, pernicious status hierarchies can be developed as a result. Inherited or bequeathed wealth plays a fundamental role in this process by serving as vehicle by which non-financial capital is horded and maintained by an elite group through the intergenerational transfer of substantial financial wealth.

This argument is a real strength of the book because it responds to an oft repeated objection that bequests and inheritances are typically received too late in life to have any appreciable impact on people's opportunity set or social standing. Once inheritance is conceptualized as a flow of wealth over time, that objection no longer has any force. A future inheritor need not actually possess the wealth to benefit from the non-financial capital that the family has accumulated as result of holding the wealth over time. In other words, if substantial wealth has existed in the family for a couple of generations or more, then non-financial capital will have accrued to the family so that the eventual beneficiary will already have reaped significant social advantages before the bequeathed wealth even arrives.

Another point in favor of this account is the way that it insightfully combines luck and social egalitarian justifications of taxation. What makes inheritance unjust is not simply that it is contingent, á la luck egalitarianism, or that, per social egalitarianism, it may be a cause of social distinctions, but rather that it is an arbitrary cause of privilege that ultimately ends up grounding unacceptable status hierarchies. So basically, the problem with untaxed inheritance or bequest is that it generates inequality that has no good justification. This argument grants Halliday the space to claim that inheritance is acceptable when it is properly taxed since, instead of generating objectionable inequality, it could serve as a vehicle for upward mobility among poor families by enabling them to gain the wealth and non-financial capital they need for increased opportunity.

As Halliday states, "first-generation inheritance may be a valuable means of promoting upward mobility…there is nothing wrong with wealth attracting valuable nonfinancial capital if this is what enables people to get out of poverty…" (154).

[…]

The largest quibble I have with the book, however, is the more practical claim that a Rignano tax will effectively prevent the dynastic concentration of wealth and the inequality that accompanies such an occurrence. Halliday's support for a Rignano scheme is primarily motivated by two concerns: 1) the existence of economic segregation and 2) a concern not to disincentivize entrepreneurial activity or investment saving. A Rignano scheme purportedly addresses both concerns because it chips away at an original inheritance as it is passed down through the generations, thus purportedly preventing the dynastic accumulation of financial and non-financial capital. However, since any newly created wealth can initially be passed on free from taxation or at a significantly lower rate, the Rignano scheme does not dis-incentivize wealth creation or entrepreneurial activity.

To illustrate using Halliday's example (62), imagine an individual G1 who leaves $100 to her offspring G2 with a Rignano tax scheme in place with rates that increase from 0% to 50% then to 100% per iteration. Because G1 generated the $100 she can pass it on tax free to G2. However, when G2 wants to bequeath the $100, it will incur a 50% tax. Hence, unless G2 creates additional wealth beyond the original $100, G3 will only receive $50. Assuming that G3 creates no additional wealth, her bequest will be taxed at 100% and G4 will receive nothing. According to Halliday, this prevents the dynastic succession of wealth and helps to limit economic segregation because families will not be able to use inherited wealth to ensure the maintenance of their non-financial capital.

But I worry that in contrast to a more traditional tax that is strongly financially progressive, a Rignano scheme allows economic segregation to start. This concern is borne out even in the extreme example of the Rignano scheme just discussed, and it is likely to be even more pronounced in real-world examples where the step-up would be expected to be less severe. The problem is that G1 can pass on all of her estate (or G2 can inherit all of G1's bequest) tax free, or at least at a substantially reduced rate. This means that both G2 and G3 are likely to gain substantial benefits from G1. G2 is likely to benefit from the general wealth of her parent(s) and the economic cushion that an inheritance will provide, while G3 is likely to be in a position to also benefit from nonfinancial capital that would have had two generations of time to develop. Importantly, as Halliday notes, sociologists have shown that the wealth of a person's grandparents are better predictors of the person's lifetime income than the wealth of her parents.

This "grandparent effect" (123) is likely to enhance the position of G4 as well since, even though she will inherit nothing, her grandparent was G2 who did inherit a substantial sum. It could even be surmised that G5 will remain in a privileged socioeconomic position given that his grandparents were G3, who still inherited something of substance. Furthermore, all of the foregoing still assumes that the generations following the initial bequest/inheritance did not use that inheritance to further grow their wealth. If a significant inheritance provides socioeconomic advantages, then it is likely that some of the later generations will have used those advantages to grow their wealth. So, I am not convinced that a Rignano scheme will effectively prevent the type of dynastic succession and economic segregation that Halliday is worried about. In contrast to a robust Rignano scheme, a strong, financially progressive inheritance tax prevents G1 from transferring a large portion of her wealth to G2 in the first place. It therefore prevents the chain of transmission from getting started. Hence, it would likely prove more effective in limiting the development of economic segregation. Moreover, even though the tax is financially progressive, that fact does not mean that G2 cannot inherit enough to help her or her progeny escape poverty, if they were poor. Certainly, a progressive tax could be calibrated to allow persons to inherit moderate amounts of wealth.

[…]

Overall, the Inheritance of Wealth presents a robust justification for the taxation of inheritance or bequest; one that easily overcomes the myriad objections that have been levelled at that form of taxation. In that vein, it provides philosophers, policy-makers, as well as the general public, with a clear prescription for a fairer, more effective system of taxation and, indeed, a more just society. And although I am less sympathetic to a Rignano tax scheme than Halliday, he deserves credit for bringing renewed attention to it and demonstrating how the scheme could serve as an important tool for liberal egalitarian theorists. Ultimately, there is little doubt that the book will serve as the foundation for much further normative theorizing on the topic of inherited wealth.