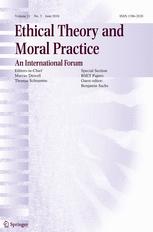 Welcome to the second Ethical Theory and Moral Practice discussion here at PEA Soup! This time, we're discussing Ian Carter's new article, "Equal Opportunity, Responsibility, and Personal Identity", which can be downloaded here. Kasper Lippert-Rasmussen kicks things off with a critical précis, which appears immediately below. Please join the discussion!
Précis: "Equal Opportunity, Responsibility, and Personal Identity"
Kasper Lippert-Rasmussen
Suppose two persons – Jerry and Ronnie – justly enjoy equally good opportunities at some point in time (T1). Suppose that they make different choices for which they are responsible and that as a result thereof, at some later point in time (T2), Jerry ends up very badly off, while Ronnie enjoys a life of luxury. On what we might call the starting gate interpretation of equality of opportunity, there is nothing unjust about this situation. Suppose, however, that T1 was when Jerry and Ronnie were both 21-year-olds, and T2 when they are 71-year-olds. Given this fact and given the huge gap between their conditions at T2, the starting gate conception of equality of opportunity comes under pressure. Could it really be the case that equality of opportunity embraces the huge inequality between 71-year-old Jerry and similarly aged Ronnie on account of their differential choices 50 years earlier? Call the objection that equality of opportunity has this implausible implication the harshness objection to equality of opportunity. The aim of Ian Carter's brilliant and wonderfully perspicuous piece is to develop a principled version of equality of opportunity that is immune to the harshness objection.
Some will dismiss the harshness objection, because they think we have a duty to respect people's agency and that this includes respecting people's exercise of their agency in relation to the intrapersonal distribution across their lives. People who take this view, might add that while we might not be required as a matter of justice to help badly off 71-old Jerry, we might have reasons of compassion etc. to do so. Others will dismiss the harshness objection, because they reject equality of opportunity in the first place, e.g., they might think that justice requires that everyone has enough at any given time. Ian's piece is written for the benefit of those who find neither of these responses attractive – "ambivalent egalitarians" (p. 3) he calls them. Ambivalent egalitarians see both the attraction of respecting people's agency, including how they exercise this agency in relation to intrapersonal choices, and the attraction of the view that justice requires us to address the situation of very badly-off people even when these people's predicament is the result of their past responsible choices. I suspect Ian's intended audience is large.
Basically, there are two ways of rescuing equality of opportunity from the harshness objection. First, one can redistribute ex post, thereby in effect limiting both the degree to which people are liable to bear the costs of the past choices and limiting the degree to which people are entitled to enjoy the fruits of their past choices. Second, one can restrict the stakes ex ante by limiting the initial option sets available to agents, e.g., by imposing mandatory insurance. Specifically, one can eliminate items in the option set that might result in agents being much worse off at T2 as a result of choices made at T1.
Ian defends the ex ante solution. His defense rests on two central premises. First, he assumes that equality of opportunity is grounded in the moral equality of persons and that in turn is grounded in a requirement of opacity respect. Second, he assumes a Parfitian reductionist conception of personal identity over time. Let me briefly describe each of these two premises starting with the first.
Ian assumes that equality of opportunity is something people are due, because they are agents and because respect is "an appropriate response" (p. 5) to agency. Some might note that even though most human beings are agents, they have agential capacities to varying degrees and, thus, that one might reasonably ask why people endowed with greater agential capacities are not due greater respect than people with lesser agential capacities (or, if respect is incapable of admitting of degrees, why the appropriate response to people with greater agential capacities is not some other response than the appropriate response to people with lesser agential capacities). This is where Ian's notion of opacity respect becomes relevant. On Ian's account, once people's agential capacities exceed a certain minimum threshold, they are entitled to be treated with opacity respect. Opacity respect in relation to a person involves "refraining from taking into account the degree to which she possesses [agential capacities] above a minimum qualifying threshold" (p. 4). Treating people as opaque amounts to "adopting an external perspective, not 'looking inside' them, and in this sense treating them as opaque" (p. 4). Equality of opportunity not only is a way of respecting agency – it gives agents "the freedom to form and carry out plans" (p. 5) – it is also a way of respecting agents that, specifically, embodies opacity respect – it does not require us to adopt an internal perspective to ascertain people's varying level of agential capacities above the minimum threshold in order to determine if some are due greater freedom than others. So much for the first premise in Ian's argument. I now move on to the second, i.e., the one pertaining to personal identity.
On one view – call it the further fact view – what makes a person at one time identical to a person at a later time is the fact that, say, the person has the same soul – e.g., some Cartesian, immaterial substance – at these two times. The further fact view naturally implies that the proper object of respect is the "agent considered as a single, temporally extended unit… your respect for my agential capacities surely involves allowing me to decide for myself how to distribute my resources over that time-span" (p. 6). On this view, the requirement that 71-year old Jerry should not bear the costs of the risky choice he made when he was 21 amounts to not respecting him as a single, temporally extended unit.
Instead of the further fact view, Ian adopts a Parfitian reductionist conception of personal identity over time: "a person's existence 'just consists in the existence of a brain and body and the occurrence of a series of interrelated physical and mental events" (p. 8). Crucial to this account are the notions of connectedness and continuity. My selves at T1 and T2 are psychologically connected if, say, at T2 I remember an experience I had at T1, or if at T1 I intend to do something and at T2 I execute that intention. Connectedness between earlier and later selves are a matter of degree. Typically, as time goes by one's past and one's present selves become less and less connected. Indeed, at some point in time they may not be connected at all. This is where continuity enters the picture. My selves at T1 and T3 might be continuous, even if they are not connected in any way, e.g., if my selves at T1 and T2 are sufficiently connected, and my selves at T2 and T3 are sufficiently connected, even if my selves at T1 and T3 are not. By way of illustration: At T2 I remember some of my experiences at T1, and at T3 I no longer remember any of my experiences at T1 even though I remember some of my experiences at T2. As Ian puts it: "Continuity, not connectedness is what explains the common belief in personal identity over time, for continuity obtains in virtue of overlapping chains of strong connectedness and is transitive: even if A is not strongly connected to C, A can be continuous with C" (p. 8).
Ian notes that agential items "such as intention, commitment, and the recollection and carrying out of plans" (p. 9) are crucial to psychological connectedness over time or, as he puts, crucial to the "diachronic integration" of different stages of a person's life. (While agential capacities are crucial they are, as Ian notes, not the only items that matter. Passive items like memories matter too and, arguably, because opacity respect is tied to agency it does not apply to this aspect of diachronic integration.) Next, Ian notes that diachronic integration is a "scalar property", one can be more or less diachronically integrated over time depending on the degree to which one's selves at different times are connected. But this observation brings into play Ian's response to the fact that different people have different degrees of agential capacities. Different people enjoy different degrees of diachronic integration, but opacity respect, diachronically applied, requires that once the degree of connectedness between time-slices of a person surpasses a certain minimum threshold, opacity respect for persons as extended in time "tells us to abstain from taking into account degrees of diachronic integration above the minimum threshold" (p. 10). Hence, in contexts where opacity respect is appropriate, e.g., in the relation between citizens and the states, the state should not, say, hold people who are more connected to their past selves liable to a greater degree for their past choices than people who are less connected to their past lives to a lesser degree. To do so would amount to violation of the requirements of opacity respect.
How do these premises help us to defend a version of equality of opportunity that retains respect for persons as temporally extended and yet avoid the harshness objection? On the one hand, because of the Carterian element of opacity respect it can explain why "persons are due respect as temporally extended agents" and in virtue thereof why "they are due equality of opportunity" (p. 11). On the other hand, because of the Parfitian reductionist element it can accommodate the intuitive force of the harshness objection. Still, as Ian acknowledges there seem to be two different ways to go.
First, one might go for an ex post solution where liability for past choices diminishes over time and uniformly across persons. The first aspect reflects the Parfitian reductionist element and the fact that psychological connectedness tends to diminish over time. The second aspect, i.e. the uniformity across persons aspect, reflects the Carterian element, i.e., opacity respect applied to temporal integration.
Second, one might go for an ex ante solution where we "limit the scope of application of liability-responsibility by limiting the initial opportunities of earlier selves" (p. 13), to wit, by eliminating risky options. On this view, unlike the ex post solution, liability for past choices does not diminish over time. As Ian puts it: "continuity is sufficient for liability" (p. 13). This solution reflects Parfitian reductionism in that the rationale for restricting the scope of liability responsibility is reductionism. If personal identity over time consisted in some further fact over and above psychological continuity (and absence of branching), then, possibly, I may now have an unlimited right to distribute my future opportunities. But given that there is no such further fact, it is fitting that this right of mine is not unrestricted. The ex ante solution also reflects Carterian opacity respect, because to apply this view, we can retain a fully external perspective on people.
Ian thinks the second solution is the correct one. Why is that? Basically, he thinks that the first solution has "morally perverse implications" (p. 12):
"If you have loaned me €1000 and I have failed to repay the sum by the agreed date, the size of my debt to you will, on [the ex post solution], diminish with time… the greater the period of procrastination, the less I will be liable to repay you and the greater the portion of the bill that should be picked up by society as a whole. Moreover, since I am aware of this rule I will have an incentive to hold out as long as possible before repaying the debt. The perversity of these implications suggests the appropriateness of maintaining the same degree of liability-responsibility regardless of temporal distance between the liable self and the self that performed the relevant actions" (p. 12).
The ex ante solution avoids these perverse implications and, accordingly, this asymmetry – that the ex post solution has "morally perverse implications", and that the ex ante solution has not – suggests that the ex ante interpretation of equality of opportunity is the correct response to the harshness objection.
While Ian's piece is a valuable contribution to the literature, it might not be the last word on the harshness objection. In closing, I want to suggest four points, which might merit further discussion.
First, some advocates of the harshness objection will see Ian's proposal as, at best, a partial solution. For Ian focuses on risky choices with high stakes and which are distant in time. But at least on some influential versions of the harshness objection, it applies also to risky choices that are almost simultaneous with the time at which the relevant calamity that the risky choice might result in will materialize, e.g., Marc Fleurbaey and Elizabeth Anderson's motorcyclist who is involved in an accident shortly after deciding to take a ride without wearing a crash helmet. It is unclear how appeals to a reductionist conception of personal identity can help explain, why one does not have the moral authority to take a risky choice that might result in a very bad outcome shortly thereafter.
Second, Ian's ex ante solution does not specify that risky options are assessed differently depending on the amount of time that passes from the risky choice to the time at which the risk materializes. Even if continuity is, as Ian puts it, "sufficient for the right to distribute future opportunities" (p. 13) that still leaves open that, in view of how psychological connectedness diminishes over time, the contours of that right should reflect this fact. Specifically, one might suggest that, on the most plausible version of the ex ante solution, the longer into the future that the risk will materialize, the more willing we should be to eliminate that risky option from the initial set of options. This suggestion may be seen (and is intended) as a friendly amendment to Ian's ex ante solution. However, it may also be seen as a potential objection for reasons related to my first point. It suggests that on the most plausible version of the ex ante solution, equality of opportunity does not avoid the harshness objection with regard to quite recent, risky choices involving high stakes.
Third, I have some doubts about Ian's argument for why the ex post view has perverse implications (and, thus, by implication his argument for preferring the ex ante to the ex post view). Note first that Ian refers to perverse implications. I take it that the two implications he has in mind is, first, the perverse incentive to procrastinate and, second, the resulting imposition of a bill on society as a whole. I set aside the second perverse implication, partly because the ex post solution as such is silent on who should pick up the bill, partly because, if the borrower knew the rules, then presumably so did the lender, in which case the lender might have insisted on safeguards to prevent procrastination. Focusing then on the first perverse implication, I did not see why Ian is entitled to assume that the borrower is "aware of this rule" (p. 12). Moreover, the principle of diminishing liability-responsibility is a moral principle and does not as such affect what incentives people have. True, a legal rule reflecting this moral principle might bring into existence the relevant incentive, but now perversity seems to adhere in the legal rule, not the moral principle. Finally, I am unsure how the relevant perverse incentive, if such a thing exists, can be avoided given the Parfitian reductionist element in Ian's account of personal identity. Even if the amount that Ian is supposed to repay does not diminish over time, he still has an incentive to procrastinate given that his later self who will have to pay the money will be connected to his present self to a lesser degree.
Finally, I wonder how central Ian's account of the basis of moral equality is to the solution he proposes. Suppose people are not moral equals. Suppose, say, that people's (unequal) moral standing results from their specific level of agential capacities such that moral standing is a scalar thing. Suppose, finally, that people for that reason are not entitled to equal initial opportunities, but to opportunities that fit their level of moral standing, e.g., if you have slightly greater agential capacities than I have, you are entitled to a slightly better initial opportunity set than I am. Call the relevant theory the starting gate interpretation of inequality of opportunity. Even if we presuppose this theory, something like the harshness objection still seems to get a grip, e.g., I can make risky choices and much later end up much worse off than you in a way that, despite the fact that my entitlements regarding initial opportunity sets were lesser than yours, we might find objectionable from the point of view of the relevant ideal of inequality of opportunity. In response to this problem, one can defend an ex ante solution analogous to the one that Ian proposes, i.e., one that consists in eliminating certain risky items in our initial opportunity sets in view of a reductionist view of personal identity over time. But if opacity respect is not doing any essential work in this Carterian response to the sketched harshness of objection to the relevant ideal of inequality of opportunity – as, surely, it does not, since ex hypothesis moral status is not based on opacity respect but on the degree to which one enjoys agential capacities – it is difficult to see how it can be doing any essential work in Ian's response to the harshness objection to the ideal of equality of opportunity on the starting gate interpretation.[1]
[1] I thank Ian Carter for useful feedback on this précis.